Make cleaning your rain gutters a thing of past with the number one gutter protection product, as recognized by Consumer Reports for two years in a row! Gutterglove gutter guard products – now proudly installed by Gutters Long Island – makes this a reality for homeowners.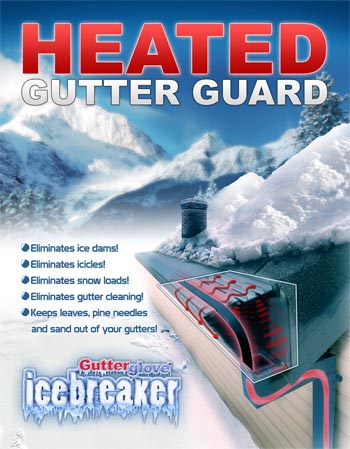 Here's how Gutterglove's patented design eliminates gutter cleaning forever:
Two-Part Construction: It's comprised of a perforated aluminum channel that's anodized to weather better and be easier on the environment, as well as durable, 316-type stainless steel mesh that filters out undesirable roof grit, sand, leaves, seeds and other debris and that's fine enough for rain water collection. These combine to create the strongest gutter guard homeowners can install.
Two types of Gutterglove gutter products are available from Gutters Long Island:
Gutterglove Pro, which comes in two different sizes.
Gutterglove IceBreaker, which has an additional cable to melt ice and snow and stop dreaded and damaging icicles and ice dams from forming.
Each type is installed in five-foot lengths on any existing gutter. Gutterglove's specifications have been designed so that it simply slides under a home's roof shingles and secures tightly to your gutter's front lip. In addition, it's recommended that Gutterglove be installed at the same pitch as the roof (up to 5/12) to maximize the shedding of debris.
The gutter and leader experts at Gutters Long Island, your full-service, certified roofing, siding and window contractor, can answer any and all questions you might have about Gutterglove. Contact us today!